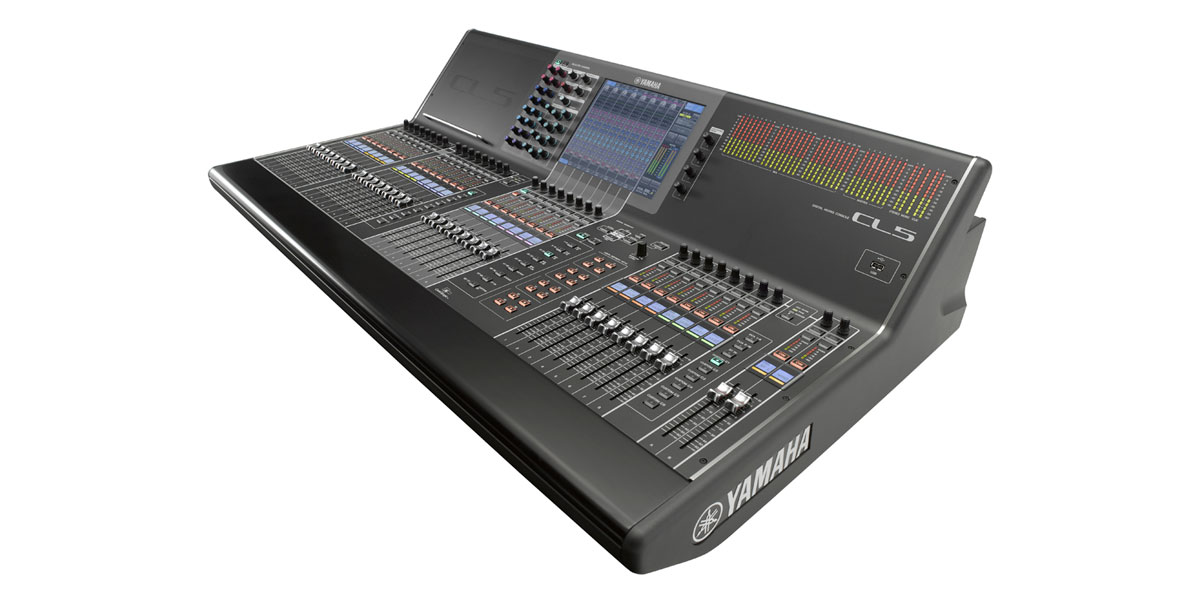 Input Mixing Channels 72 mono + 8 stereo
Mix + Matrices Buses 24+8
Analog Inputs 8
Analog Outputs 8
Nuendo Live + DVS License Included
Faders 16 + 8 + 8 + 2
W x H x D 1053x299x667mm
Net weight 36kg (79.4lb)
I mixer digitali serie CL rappresentano il nuovo standard Yamaha, offrendo innovazioni tecnologiche, collaborazioni di altissimo livello, incremento sulla capacità di calcolo delle DSP e molto ancora.
Le consoles della serie CL adottano il protocollo di network audio Dante per consentire configurazioni flessibili, connessioni multiple con unità di I/O installate in posizioni richieste dalle applicazioni e contemporaneamente garantendo una ridondanza di connessione per una affidabilità superiore.
Specifiche complete
Input Mixing Channels 72 mono + 8 stereo
Mix Buses 24
Matrices 8 (Input to Matrix supported)
Stereo Bus 1
Mono 1
Cue 1 (Second Cue Bus supported in QL V4.0 or later)
Analog Inputs 8
Analog Outputs 8
MY Slots 3
Dante I/O Primary / Secondary
Digital Out 1 (AES/EBU)
GPI 5 in / 5 out
Word Clock I/O Yes
MIDI I/O In / Out
External Redundant PSU Optional PW800W
Meter Bridge Built-in
Ethernet Yes
Number of Scenes 300
Preview Yes
Selective Load / Save Yes
Tactile Control Keys Yes
Gain Compensation Yes
Number of Premium Racks 8
Number of Effect Rack 8
Number of  GEQ Rack 16
Number of  Dante I/O 64 in/out
Dante Patch from Console Yes
USB Memory Recording Yes
DVS Recording Yes
5.1 Surround Panning Yes
Surround Monitor Yes
Mix Minus Yes
L-Mono / R-Mono / LR-Mono Yes
Monitor Solo Mode Yes
Oscillator Yes
Dante Port to Port No
RTA Yes
Input Output Port Delay Yes (0ms ~ 1000ms)
Cascade Yes
User Level Yes
Control & Monitoring for Digital Wireless Receivers Yes
Display 10 inch Touch Panel
Centralogic Section Yes
Faders 16 + 8 + 8 + 2
User Defined Keys 16 x 4 banks
User Defined Knobs 4
Touch and Turn Knob Yes (using a Defined Knob)
Monitor Level Knob Yes
Wooden Arm Rest Yes
iPad Stay Yes
Rack-mounting No
Nuendo Live + DVS License Included
Software Editor Yes (Win/Mac)
StageMix iPad app
MonitorMix Yes
Console File Converter Yes (Win/Mac)
W 1053mm (41 1/2in)
H 299mm (11 3/4in)
D 667mm (26 1/4in)
Net weight 36kg (79.4lb)
Operating temperature range 0 – 40°C
Storage temperature range -20 – 60°C
Prima di contattarci, se hai bisogno di un finanziamento a lungo termine, ti invitiamo a scoprire le condizioni di finanziamento a questo link.